A sensor is a device that converts one type of energy to another. Arduino is a small microcontroller board with a USB plug to connect to the computer. The Arduino board senses the environment by receiving input from a variety of sensors and can affect its surroundings by controlling lcds, speakers, motors and GS module. Ultrasonic Sensor measure the distance of target objects or materials through the air using "non-contact" technology. They measure distance without damage and are easy to use. The output Signals received by the sensor are in the analog form, and output is digitally formatted and processed by microcontroller. In present work, it is used to detecting an obstacle, along with its exact distance. The internal analog to digital converter is used is calibrated to get almost accurate distance measurement. The measured distance is also displayed on an LCD screen.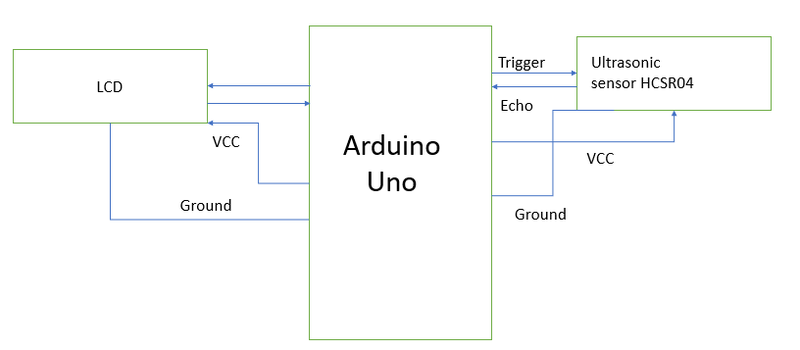 Applications and Advantages:
Applications of Android based Ultrasonic Distance Meter with Buzzer indication:
1) This project can be used in Industries, companies. This project also has application in Robotics.
Advantages of Android based Ultrasound Distance Meter with Buzzer indication:
1) This project is easy to use.
Conclusion
The objective of the project was to design and implement an ultrasonic distance meter. The device described here can detect the target and calculate the distance of the target. The ultrasonic distance meter is a low cost, low a simple device for distance measurement. The device calculates the distance with suitable accuracy and resolution. It is a handy system for non-contact measurement of distance. The device has its application in many fields. It can be used in car backing system, automation and robotics, detecting the depth of the snow, water level of the tank, production line. This device will also have its application in civil and mechanical field for precise and small measurements. For calculating the distance using this device, the target whose distance is to be measured should always be perpendicular to the plane of propagation of the ultrasonic waves. Hence the orientation of the target is a limitation of this system. The ultrasonic detection range also depends on the size and position of the target. The bigger is the target, stronger will be the reflected signal and more accurate will be the distance calculated. Hence the ultrasonic distance meter is an extremely useful device.
Future Development:
We can provide voice feedback system.